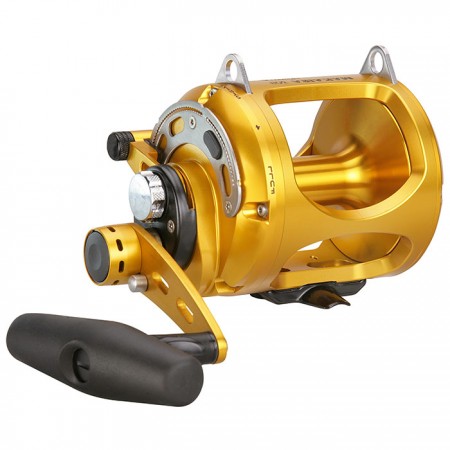 ---
Makaira Lever Drag Reel
Okuma Makaira lever drag reels are perfect for big game fishing for billfish, large tuna and sharks. With advanced, unique and numerous patents, Makaira provides uncompromised excellence within every aspect of its design, construction and performance.
Makaira 2-Speed Lever Drag Reels, Makaira Trolling Reel
Features
6061-T6 machined aluminum frame with forged side plates
17-4 grade stainless steel gearing
Helical cut gears for increased torque, smoothness and improved gear meshing
Makaira reels all feature two-speed gearing systems
Gold anodized two-speed gear shifter housing
Cold forged, Type-II anodized, machined aluminum spool
CRC: Corrosion Resistant Coating process
Patented spool pin system for use with braided or mono lines
Carbonite Dual Force drag system featuring Cal's universal drag grease
Custom designed thrust bearing: Alleviates side load on heavy drag settings
4-pcs ABEC-5 precision Sapporo stainless steel ball bearings
MK-80WII features 6-pcs of Sapporo ball bearings
Double-dog, proprietary silent anti-reverse system
Ratcheting drag lever and pre-set knob for precise drag setting
Patented T-Bar handle with Easy Roll graphite insert on all models
Heavy duty stainless steel ratcheting clicker system
Heavy duty, 17-4 grade stainless steel drive and spool shafts
Type-II gold anodized frame, sideplates, spool, drag lever and handle
Open top frame design on 10II, 15II,16II, 20II, and 50II
Lug and plug system on all open top reel models
Machined thumb rest on rear cross bar for improved ergonomics
Forged aluminum full hard anodized reel foot and reel clamp
Machine-etched marlin logo on left side plate
Precision placement of drain holes maximizes water removal from reel
Special screw ports around side plate screws reduces water/corrosion buildup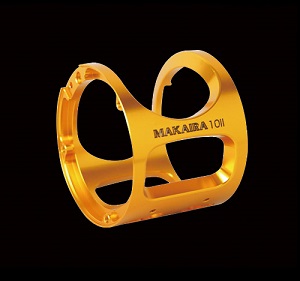 MACHINED RIGID FRAME
Okuma's Machined Rigid Frame construction incorporates a one-piece fully-machined aluminum frame. These rigid bar-stock aluminum frames are the ultimate in precision alignment and tolerances withstanding more pressure and torque than any other material used in our industry for frame materials. Okuma features these anodized frames on fly reels, baitcast reels, lever drag reels and star drag trolling reels.
T-BAR HANDLE
The patented design of the T-Bar handle offers a true ergonomically correct angle to ensure an angler gets maximum power with minimum fatigue. The T-bar takes full advantage of the natural dynamics of the human hand, wrist and forearm to help sustain power and endurance for the angler.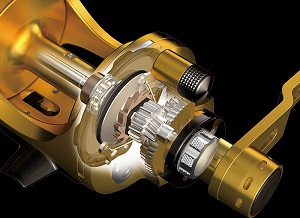 2-SPEED GEARING
Okuma's 2-speed technology incorporates two sets of stainless steel main and pinion gears, allowing anglers the option of a high-speed gear ratio or a powerful low-speed gear ratio for maximum power and torque. To shift gears it is as easy as pushing a button or popping a lever with Okuma's unique shifting design to obtain the appropriate gear ratio you desire.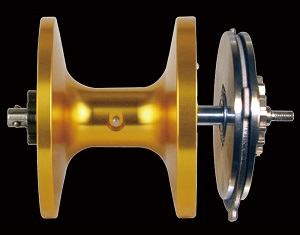 LEVER DRAG DUAL FORCE DRAG
For extremely smooth and strong drag outputs, Okuma's Makaira lever drags are designed with a patented Dual Force Drag system. This drag system is specifically engineered to be mounted in the right side of the spool, designed around a Pull Bar Drag System which keeps all mechanical workings in precise alignment and places no pressure on the frame. This system works in conjunction with a custom designed thrust bearing, which alleviates side load at heavy drag settings.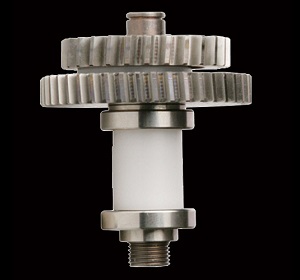 HELICAL CUT GEARINGL
Makaira lever drag reels utilize helical cut main and pinion gears. This process allows for improved gear meshing which equates to improved gear smoothness. The angled teeth found in helical cut gears engage more gradually than straight cut or spur gear teeth. This allows helical gears to run smoother and quieter compared to spur gears. Spur gears cause impact stress and noise, because of the hard meshing and can not take as much torque as helical gears because their teeth are receiving impact blows as they mesh together.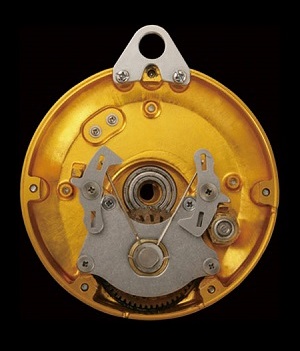 SILENT ANTI-REVERSE
The Makaira's proprietary anti-reverse system allows for a smoother and quieter feeling. We equate this feeling to that of a Lexus, when compared to other reels in the market. Most reels in the market hide their rough gear quality by the noise and vibration caused by the engagement and clacking of the anti-reverse pawls. The Okuma silent system is unlike any other 2-speed reel in the industry for smoothness. This anti-reverse system is supported by a 12 point double dog anti-reverse pawl system. The Makaira system is very simple in principal but the performance is extremely advanced. As you turn the reel forward the anti-reverse pawls slide open allowing a friction free and quiet retrieve. As soon as the handle is stopped or pulled backwards the anti-reverse pawls are engaged into place by their drive shaft actuated sliding system. The strength of this anti-reverse system does not solely rely on a dog spring like found on most of our competitors reels. The sliding function does not rely heavily on a dog spring system and is mainly controlled by the forward and reverse movement applied to the drive shaft through the movement of the angler turning the handle.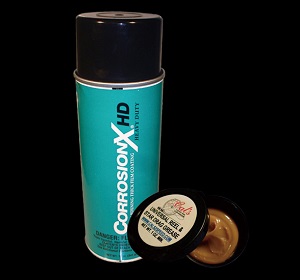 CRC
Corrosion Resistant Coating combines Okuma's proprietary HDG-II gearing system, which offers exceptional anti-corrosive properties compared to standard gears, with a coating of Corrosion X HD to all internal and external parts. The CRC process actually penetrates and bonds to the metal, which helps significantly toward long term protection.
Specification
Makaira Lever Drag Reel
Model
Gear ratio
Bearings
Weight (g)
Line retrieve(cm)
Mono line capacity (mm)
Max Drag @ Strike with Freespool
Max Drag @ Full with Freespool
Frame Style
 
Two-Speed Lever Drag Reels
MK-10II
4.7:1 & 2.1:1
4BB + 1TB
740
85.1 & 38.1
0.37/420, 0.42/350, 0.48/260
12.3 kg
15.4 kg
Topless
MK-15II
4.7:1 & 2.1:1
4BB + 1TB
780
85.1 & 38.1
0.42/500, 0.48/370, 0.55/280
12.3 kg
15.4 kg
Topless
MK-16II
4.3:1 & 1.3:1
4BB + 1TB
1160
99.6 & 30.0
0.42/800, 0.48/600, 0.55/450
15.4 kg
21.7 kg
Topless
MK-20II
3.8:1 & 1.7:1
4BB + 1TB
1298
100.1 & 44.5
0.48/800, 0.55/600, 0.60/480
16.8 kg
25.0 kg
Topless
MK-30II
3.8:1 & 1.7:1
4BB + 1TB
1417
100.1 & 44.5
0.55/770, 0.60/640, 0.70/500
16.8 kg
25.0 kg
Crossbar
MK-50II
3.2:1 & 1.3:1
4BB + 1TB
1741
96.0 & 38.9
0.55/910, 0.70/590, 0.90/360
27.2 kg
39.0 kg
Topless
MK-50WII
3.2:1 & 1.3:1
4BB + 1TB
1843
96.0 & 38.9
0.70/820, 0.75/710, 0.90/510
27.2 kg
39.0 kg
Crossbar
MK-80WII
3.1:1 & 1.2:1
6BB + 1TB
3289
116.1 & 52.9
0.90/910, 1.00/770, 1.12/600
32.1 kg
45.4 kg
Crossbar
MK-130II
2.2:1 & 1.2:1
6BB + 1TB
4750
100.8 & 55.1
0.90/1450, 1.00/1170, 1.12/920
34.1 kg
45.4 kg
Crossbar
Want to know more? Then get in touch with Leadertec today.